0 Flares
Made with Flare

More Info

'>
0 Flares
×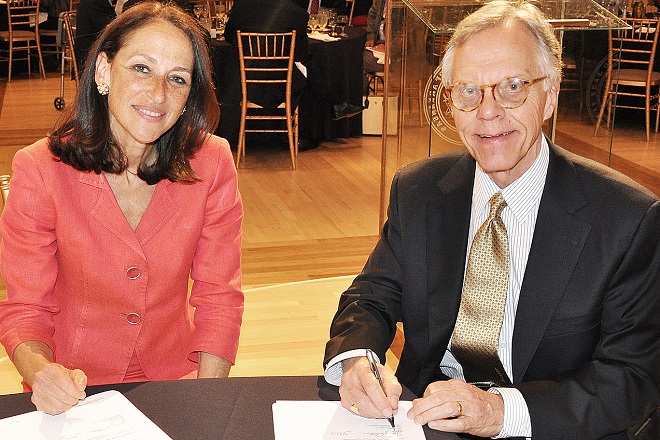 FDA Commissioner Margaret Hamburg and Arkansas Research Alliance CEO Jerry Adams sign a partnership deal between FDA and ARA in 2013.
The Arkansas Research Alliance announced Wednesday that it has been awarded a $1.2 million contract from the U.S. Food and Drug Administration that will extend a collaborative research program focused on graphene-based nanomaterials.
The research is focused specifically on the safety and toxicity of graphene and its impact on public health, according to the ARA. Graphene, a common carbon nanomaterial used in electronics and renewable energy devices, was first isolated in 2004 and is the subject of significant research into its uses in pharmaceuticals and medical devices.
(Video: The New Yorker takes a look at graphene and other "miracle materials.")
The contract announced Wednesday extends collaborative research launched in 2013 when ARA partnered with FDA to commercialize technology produced by the National Center for Toxicological Research in Jefferson (Jefferson County), the FDA's primary research facility.
ARA has led that strategic research effort at four Arkansas research universities: the University of Arkansas, Fayetteville; the University of Arkansas at Little Rock; the University of Arkansas for Medical Sciences in Little Rock; and the University of Arkansas at Pine Bluff.
"No single institution had the tools, resources or people to dedicate to the overall scope of this project," said ARA president and CEO Jerry Adams. "A collaborative approach was needed, and ARA was selected to spearhead the project."
ARA now has received three rounds of funding related to the FDA partnership. Adams said important breakthroughs from the first contract led to new contracts, including the most recent, and bring the overall FDA grant total to $2.5 million.
"This amount is approximately halfway to the funding goal of $5 million," he said. "The new FDA contract also extends the life of the program by 18 to 24 months."
It's been a big year for ARA even without the FDA funding. Earlier this year, ARA announced two members of its ARA Scholars program, and earlier this month launched the ARA Fellows program.
The ARA Scholars program is designed to recruit new research talent to the state; the ARA Fellows program aims to keep existing research talent in Arkansas.
ARA program director Roger Buchanan oversees research at each of the four campuses and coordinates with NCTR, which employs more than 600, including 150 Ph.D.-level researchers. Thirty-five university researchers, including faculty and students, are actively involved in the project, according to ARA.
"NCTR plays a crucial role in promoting and protecting public health and is the only FDA Center located outside of the Washington, D.C. metropolitan area," Adams said. "Arkansas would not have been in a position to compete for this research without the strong scientific capabilities of NCTR."
Adams said the new FDA contract builds upon the strengths of the state's research universities, and that Arkansas researchers "leverage NCTR's research capabilities and provide additional scientific strength and expertise."
"The program will allow Arkansas-based researchers to lift Arkansas' scientific reputation and create a nationally and internationally recognized research capability in the nanotechnology area," he said.
ARA is a nonprofit governed by a board of trustees comprised of chancellors from Arkansas' research universities and CEOs from across the state. ARA was created from a 2007 strategic plan developed by Accelerate Arkansas, and is funded through the Arkansas Science and Technology Authority.
Source: Arkansas Business
0 Flares
Made with Flare

More Info

'>
0 Flares
×